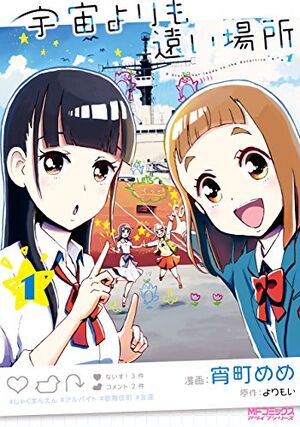 A Place Further Than the Universe is a manga written by Meme Yoimachi (宵町 めめ), published in 2018 by Kadokawa.
With 15 chapters across 3 volumes, the manga retells of the story from the anime series A Place Further Than the Universe. Some chapters cover a particular event from a different character's point of view than the original. Volume 1 covers episodes 1 - 4. Volume 2 covers episodes 5 - 8. Volume 3 covers episodes 9 - 13.
It was initially published in Monthly Comic Alive from December 2017 (February 2018 issue) through February 2019 (April 2018 issue).[1][2]
Author
[
]
Yoimachi is the creator of several manga,
The Last Journey of the Fifteen Witches (十五魔女の最後の旅) 2020, currently in serialization
Yoimachi also wrote the novel Infinite Night Train (無限夜行), and the children's book series Raincoat Kids (レインコートキッズ) and Mayoito Spica (マヨイトスピカ).
External Links
[
]
↑
Natalie ナタリー - Two new serials started in Alive
↑
Natalie ナタリー - Canno "Kiss and White Lily for That Girl" was serialized