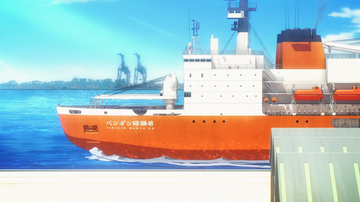 The Penguin Manju Go (ペンギン饅頭号) is the icebreaker ship that takes the main characters of A Place Further Than the Universe to Antarctica. It appears prominently in the background in promotional content. It is based on the real-world Shirase (AGB-5002).
Four years before the events of the first episode, the Shirase (AGB-5002) and Showa Station were sold by the Japanese Self-Defense Forces to private interests, after the Japanese government had commissioned new Antarctic stations and a new icebreaker ship. The company to bid successfully for both was the Antarctic Challenge Foundation, a charity jointly founded by Gin Tōdō, Takako Kobuchizawa and Kanae Maekawa to promote national interest in polar research. A year later, the first Japanese civilian expedition funded by the Antarctic Challenge Foundation and its sponsors departed for Antarctica during the southern winter. However, it returned with one member missing. As a result, sponsors withdrew from the Antarctic Challenge Foundation due to safety concerns, and more people voiced objections to future civilian expeditions.
By November of the timeline of the story (Episode 5), AGB-5002 had been cleared for another expedition. It was made over and became the Penguin Manju Go. It departed on November 14 with the belongings of the expeditioners, and on November 28, made a stopover at Fremantle, Western Australia to pick up the expeditioners that had flown from Japan, as well as refill its supplies. On December 3, it departed Fremantle for Antarctica, arriving around the middle of the month.
On February 22, the Penguin Manju Go departed Antarctica for Sydney, carrying only the four girls and (presumably) Captain Mukai due to the rest of the expeditioners staying for the Antarctic winter.
A landing pad for the Antarctic Challenge Foundation's helicopter, located near the stern
The girls' room is numbered 130
A snowcat stored on the deck
The real-world Shirase (AGB-5002) was decommissioned on 30 July 2008, and there were plans for the Japanese government to scrap the icebreaker. However, due to the declining price of scrap iron, the Japanese government welcomed private bids for the icebreaker. They officially sold AGB-5002 to Weathernews Inc., a company that planned to exhibit the icebreaker, as well as use it to monitor the polar circles and observe weather.
In 2013, the icebreaker was renamed SHIRASE, in all caps with Latin letters, to distinguish it from the current AGB-5003 which is the in-service ship which has its name written in hiragana (しらせ). It opens several times a year for tours in conjunction with the nearby Sapporo Beer Chiba Marine House. In 2018 they held a special A Place Further Than the Universe fan event.[1]
Community content is available under
CC-BY-SA
unless otherwise noted.