We're Getting Mutants in the MCU - The Loop
Play Sound

Takako Kobuchizawa (小淵沢 貴子 Kobuchizawa Takako) is the mother of Shirase Kobuchizawa who disappeared during an Antarctic expedition three years ago. Her role in that expedition was unclear.
She is also the author of the book which appears recurrently in the series, also titled A Place Further Than the Universe.
Appearance
[
]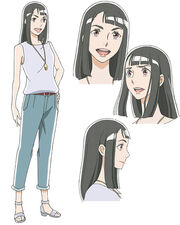 Takako has upper-back length black hair that has square bangs hanging on the left side and pink eyes.
Personality
[
]
Takako likes collecting model icebreaker ships. She was placing a model helicopter on one on the day she left for the expedition, which was also the last time Shirase saw her.
History
[
]
Twenty years prior to the events of A Place Further Than the Universe, Takako and her best friend Gin Tōdō were high-schoolers at Tatara Nishi High School. At around this time, Takako first expressed a desire to visit Antarctica. A few years after this, Takako gave birth to daughter Shirase and often tasked Gin to look after her daughter. Despite this, Takako was able to impart Mahjong skills to Shirase as well as a strong batting performance in baseball.
Four years prior to the events of the story, Gin and Takako, along with Kanae Maekawa, launched the Antarctic Challenge Foundation and successfully bid for the soon-to-be-decommissioned Shirase icebreaker ship and Showa Station from the Japanese government. Takako had the bold desire to also build a working observatory for Showa Station before the Japanese government launched theirs at their new station.
It is eventually revealed that Takako died after failing to return from the inland station under which the observatory was supposed to be built. A blizzard had trapped Takako in when she went to find her missing laptop. The exact location of her death is uncertain, although it is likely to have had walkie-talkie signal, as the last thing Takako did was call Gin. An email containing the photo of the Aurora Australis was being drafted by her at the time she died. After the missing laptop was recovered by Hinata Miyake and Mari Tamaki, passed to Shirase herself and later Gin, it would be revealed that Shirase had sent a total of 1483 messages to Takako between the day she went missing and the day said laptop was recovered.
After Shirase comes to terms with Takako's death, she has her hair cut short, in the same hairstyle that her mother sported when she herself was a high school student. A memorial is also set up at her home, at which Shirase would often pay respect with shaved ice.
Quotes
[
]
"It's beautiful... it's so... very beautiful" (Takako's last words)
"The real thing is ten thousand times more beautiful" (the unsent message featuring the picture of the Aurora Australis)
Etymology
[
]
The name Takako means "valuable" (貴) (taka) and "child" (子) (ko).
Takako's surname Kobuchizawa means "small" (小) (ko), "edge, abyss, deep pool, depth" (淵) (fuchi/buchi) and "swamp" (沢) (sawa/zawa).
Trivia
[
]
Takako Kobuchizawa is based on the story of Fukushima Shin (

ja

), a geophysicist who froze to death in 1960 during a blizzard in Antarctica in 1960. His body was later found in 1968.