(One intermediate revision by one other user not shown)
Line 1:
Line 1:
 

[[File:353143.jpg|thumb|342x342px|Yume Sasaki]]

 

[[File:353143.jpg|thumb|342x342px|Yume Sasaki]]

−

'''Yume Sasaki''' (佐々木 夢 ''Sasaki Yume'') is the Astronomer member of the observation team.

+

'''Yume Sasaki''' (佐々木 夢 ''Sasaki Yume'') is the Astronomer of the observation team.

 
 
 
+

Before departure in [[The Ship That Sees the Universe|episode 7]], Yume gathers [[Honami Yasumoto]] and [[Toshio Zaizen]] at a restaurant and tells them about a plan that they left out of official documentation. Her conversation is eavesdropped upon by the main characters. In [[Howling, Maddening, Screaming|episode 8]], Yume is one of two scientists that the girls interview as part of their reporting duty. In [[Bash That Drum Can!|episode 11]], the girls assist Yume at Rundvågshetta, in which they place geodetic markers and paint the rock surrounding them.

−

== Trivia ==

 
 
+
 
+

Before the girls leave, Yume gives [[Shirase Kobuchizawa]] a photograph of penguins.

 
+
 
+

== Etymology ==

 
+

* The name '''Yume''' means "dream, vision" (夢).

 
+

* Yume's surname '''Sasaki''' means "help, aid" (佐) ('''sa''') and "tree, wood" (木) ('''ki''').

 

[[Category:Characters]]

 

[[Category:Characters]]

 

[[Category:Female Characters]]

 

[[Category:Female Characters]]
---
Latest revision as of 06:15, 7 April 2021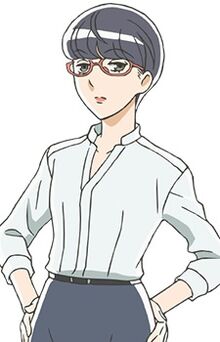 Yume Sasaki (佐々木 夢 Sasaki Yume) is the Astronomer of the Antarctic Challenge Foundation's observation team.
Before departure in episode 7, Yume gathers Honami Yasumoto and Toshio Zaizen at a restaurant and tells them about a plan that they left out of official documentation. Her conversation is eavesdropped upon by the main characters. In episode 8, Yume is one of two scientists that the girls interview as part of their reporting duty. In episode 11, the girls assist Yume at Rundvågshetta, in which they place geodetic markers and paint the rock surrounding them.
Before the girls leave, Yume gives Shirase Kobuchizawa a photograph of penguins.
Etymology[]
The name Yume means "dream, vision" (夢).
Yume's surname Sasaki means "help, aid" (佐) (sa) and "tree, wood" (木) (ki).